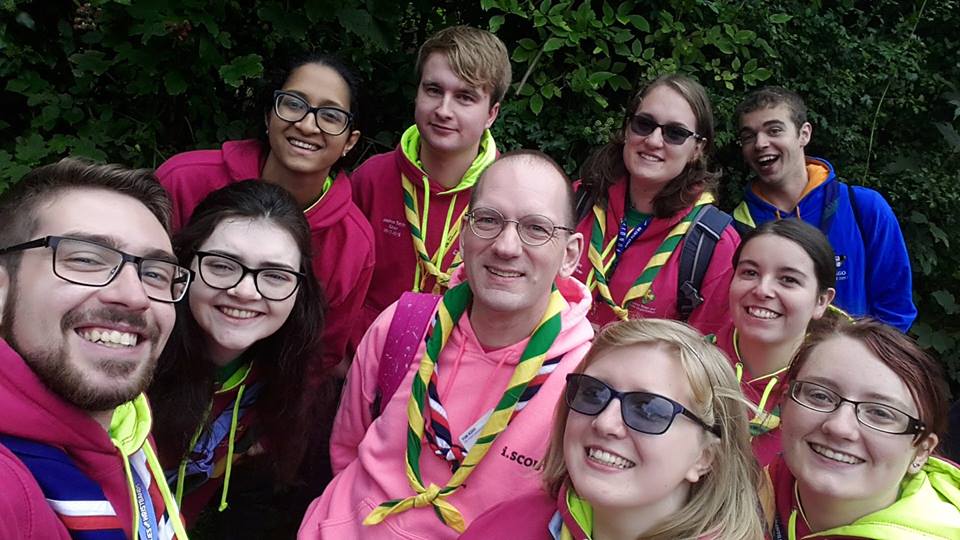 Quick monthly catch up with the national exec...
Quick monthly catch up with the national exec…
Executive committee:
Joshua Smith- Chair
Had a very productive meeting with Girlguiding to discuss how we work together and strengthening our relationship further.
Have been preparing for a joint meeting with the Scout Association and Girlguiding to go through the Memorandum of Agreement.
Helped run and coordinate SSAGO Reunion.
Promoted SSAGO at Gilwell Reunion.
Dealt with a lot of admin...
Frances Milroy - Treasurer
SSAGO has money
Graduated!
Lauren Whittaker - Secretary
Travelled all over the country to go to various SSAGO related events – Led the SSAGO support team at Wellies & Wristbands at Waddow and have also been to Gilwell reunion with the rest of the exec
Went to a very interesting meeting with Girlguiding at their headquarters in London with Josh
Finally got round to writing handover notes ready for ball
Had a very delayed train journey to reunion but was well worth it and certainly had a great weekend!
Started my masters course and been to my first Glasgow SSAGO event! – looking to help grow SSAGO in Scotland!
Replied to various email queries
Anona Mann - Members Officer
Set up some more new SSAGO Clubs
went to Gilwell Reunion and helped show how cool SSAGO was and spoke to someone from Edinborough in hopes to start their SSAGO back up!
Started new term of Cubs and Beavers, aswell as starting my uni placement
Made 30m of bunting several carrot cakes (one exploded) and took them down to SSAGO Reunion!
Got to be a tourist round London with Vicky and we took Ralph and Harold to the Lego Shop and the Imperial War Museum!
Have started to help Larah look through old documents to find out national and club numbers
My smallest sibling turned 1 so we had a big party and i made him very cute trousers
James Frith - Publicity Officer
Organised SSAGO attending the Wellies and Wristbands Girlguding music festival; was awesome!

Led SSAGO's first programmed workshop "Scouting for Students" at Gilwell Reunion, along with the usual stall; went well!

Ran a "stall" at Intense for the day to make sure SSAGO had a presence at a prominent Scout Network camp just ahead of Freshers; was wet!

Attended SSAGO Reunion, helped a little but tried to enjoy the weekend as a participant (while also sharing/tweeting and resharing/retweeting on social media!); was brilliant!

Put together SSAGO "Publicity Packs" to give clubs a last minute publicity boost at a much cheaper cost than could be bought individually; will be asking for feedback in reps to develop for next year!

Designed and purchased new SSAGO banners (including a map banner which can be constantly updated with the new events, clubs, number of members, etc) that have already been used at 2 Reunions, Intense, lots of freshers fairs by clubs across the country; hopefully SSAGO will agree to buy them off me at the next reps meeting!

Made more little SSAGO promo videos for social media; page likes have reached 1270+!

Started combining everything into a SSAGO Branding Policy and SSAGO Media Policy, as Guidelines to help both clubs and future execs to use the SSAGO brand and media effectively to help promote their clubs

Shared over 30 freshers fairs posts from clubs, as well as the usual media posting and continued "SSAGO Spotlight" (if you'd like to feature, use the SSAGO facebook frame and drop me a message)

Continued planning future SSAGO Support events (Scarefest, Wintercamp, Sparkle and Ice, etc)

Continued my Graduate scheme, leading my new Scout group in Ivybridge, became the 7th World Scout Jamboree Unit leader for Devon county, and joined The Scout Association's project team for "Roverrail"; the Interrailing Scavenger hunt across Europe to celebrate 100 years of Rover Scouts!
Executive Assistants:
Beatrice Phanjoo - International Officer
Got Delft from the Netherlands to SSAGO Reunion
Attended Reunion myself and dived straight into a week of job experience in Bournemouth after that!
Contributed some articles to the Historical show at Reunion from our international friends, the Irish Rovers and Index from Bosnia and Herzegovina
Tracked down The Helsinki Metropolitan Area Guides and Scouts and SSAGOgot invited to their international summer camp called Kliffa!
Contacted Hyde at the University of Helsinki and Teepakki at the University of Aalto
Starting 3rd year mayhem with 2 volunteer roles, 2 part time jobs alongside uni!
Larah Korrison - Archivist
Organised an interesting visit to Cambridge archives - considering Birmingham and Durham next
Working with membership officer to pull out national and club numbers from old publicity materials (on going)
Co-ordinated with Gilwell to borrow the SSAGO flag for Reunion
Along with 3 other SSAGO members, we assisted the Heritage Team at Gilwell Reunion at their stall
Put together a museum for Reunion (so much printing...!) Temporarily made my bedroom an archive for old ssago materials
Made a full inventory of the rally box (over 50 items in there)
Interviewed a range of ex-members at reunion and talked about their time in SSAGO
Moved to Aberystwyth and started Masters course!
Laura Payne - SAGGA liason
Attended Wellies and Wristbands with SAGGA and arranged for SSAGO's activities to be on the same field as SAGGA had ample space and, more importantly, shade!
Introduced a few SSAGO members to SAGGA's wine and cheese traditions
Went to Reunion camp with my family - 3 generations of SSAGO members!
Moved house and started my new job
Oliver Bills - Webmaster
Helped plan and run SSAGO Reunion
Ran the web hack weekend to help support the new SSAGO Web Team
Set us up with card readers to enable us to take card payments
Further developed the events system to allow people to book multiple activities
Created an automatic lanyard generator for events to create automatic lanyards from bookings
Helped create links between the SSAGO system and SAGGA system, for things such as Alternative Rally
Re-initialised SSAGO for the new 2017-2018 year
Created a sign-in system for events to mark people off when they sign in
Vicky Sanderson – Notifications
Attended Reunion and tried to loose Anona in London
Created a Risk Assessment ProForma which is awaiting approval from Exec
Went back to Guides
Promoted SSAGO to Central Yorkshire
Went back to work and haven't keeled over yet
Dale Patrick – Merchandise Officer