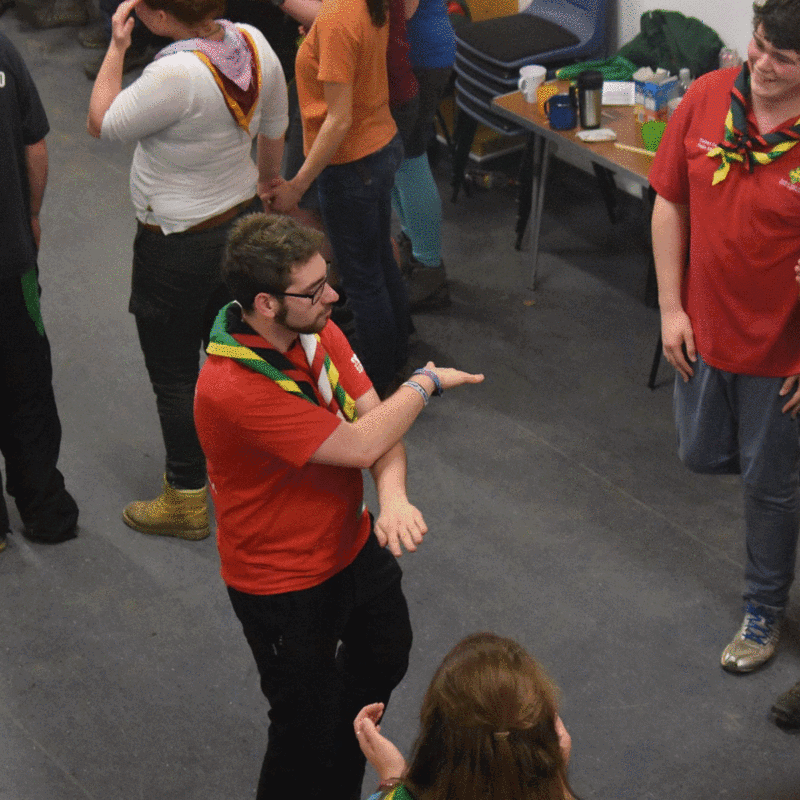 Following the AGM, the national Exec decided to make sure their full annual reports were available to all the membership through our Exec blog!
This year has been pretty amazing in terms of SSAGO Publicity!
In terms of Outreach and increasing our presence with both The Scout Association and GirlGuiding - we've volunteered at more events than ever before, including our first national GirlGuiding events; "Wellies and Wristbands" and "Sparkle and Ice", as well as run our first timetabled talks at Gilwell Reunion to showcase SSAGO to a wider and more varied Scout audience!
The new, improved and increased Merchandise range has not only provided members with a more colourful SSAGO wardrobe, but also helped to increase SSAGO awareness and outreach too! This, coupled with updated banners and publicity materials available to clubs throughout freshers has hopefully positively impacted your publicity as clubs, as well as SSAGO Nationally!
Looking inward, we've had the biggest active membership increase ever, with increased engagement with SSAGO National Events (largest Rally ever, go Young Goats!), Challenge badges, SSAGO News, Online voting, using our resources, etc - all of which would also not have been possible without Oli, our wonderful Webmaster, who is continuing into the new Exec year.
This year he's created the Online shop, Membership perks, badge functions, upgraded the online election system, event system, admin systems… and countless other improvements that keep SSAGO's Website well ahead of the standard!
As mentioned at the AGM, hopefully you've noticed all we've been doing, and hopefully will continue to see what SSAGO Publicity Officer and Webmaster can achieve with Mel taking the reins!
I have included a few stats from my year as Publicity Officer below:
SSAGO promoted at 10 Scout and/or Guide events over the year through the "SSAGO Support" brand

Moot briefing weekend
OxonJam
Fundays x2

Woodhouse and Gilwell at the same time

Gilwell 24
World Scout Moot in Iceland

Took Percival up a Volcano as promised!

Wellies and Wristbands music festival x2

SSAGO's first official national GirlGuiding event
Foxlease and Waddow Hall at the same time

Gilwell Reunion
Intense
Scarefest
Wintercamp

Organised but unavailable due to personal reasons

Sparkle and Ice

SSAGO's second official national GirlGuding event

Designed new publicity card leaflets and stickers, made available to all clubs during freshers and beyond
Designed and procured:

2 new roller banners
2 new parade banner
SSAGO orange flag
Ensured all were available for clubs to use during freshers and beyond (used by over 10 clubs across the UK during the few weeks of Freshers alone!)

Designed new SSAGO merchandise:

Exec
Assistants
World Scout Moot
SSAGO Support
Roverway
Indie
SSAGO Project Teams

Media, Archive and Web Teams

SSAGO Active Membership has risen to 600+ from less than 400, and overall membership has risen to 950+ from 890, with a peak of 1100 before the Christmas membership cull
Made multiple SSAGO publicity videos
Increased SSAGO facebook page likes from 900 to 1450+, and facebook group members from 1400 to 1600+
Stepped up Instagram use with 325+ followers and twitter use with 600+ followers, Snapchat gets sporadic use
Written or have encouraged the writing of 20+ SSAGO news articles so far
Organised and delivered SSAGO's first programmed talks at Gilwell Reunion
Designed Leeds rally badge and shirts, Moot badge, 50th Anniversary challenge badge…
Organised the SSAGO 'spoons event - for no real reason other than it sounded like a challenge and would be fun!
1 hour a day average plus 15 weekends (including Rallies, Ball, etc)
Dealt with emergent SSAGO issues and stress throughout!
All in all, it been a full on year, and while I've enjoyed it I'm quite looking forward to finishing with SSAGO and focusing on my other volunteering roles in Scouting and beyond, as well as my career and professional development, plus of course Wedding planning for next year!
Ciao SSAGO!