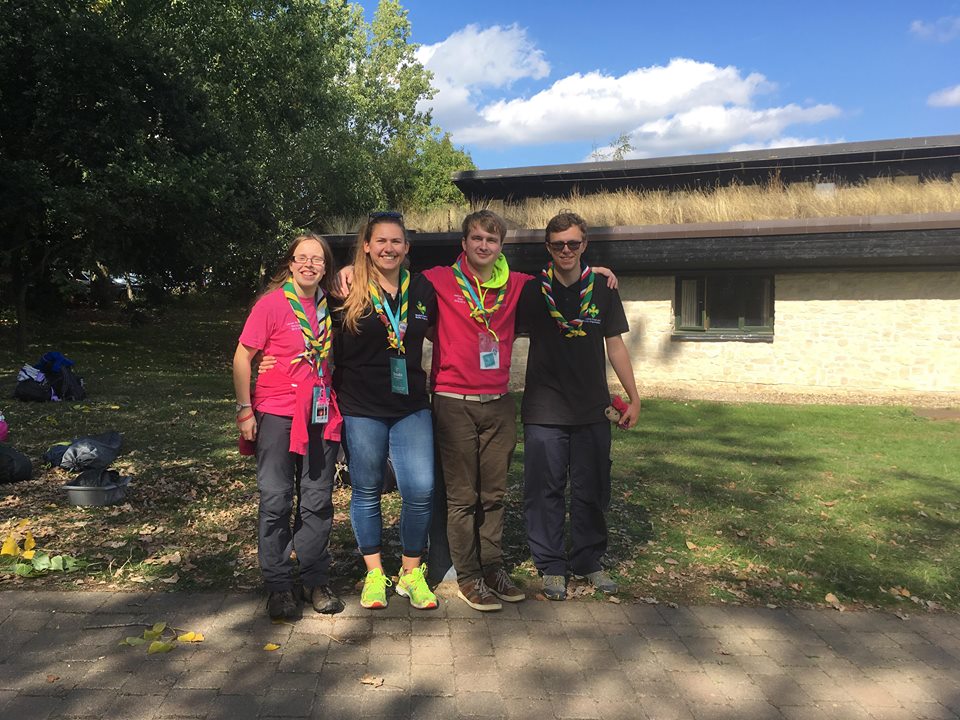 Check in with what you're exec and the assistants have been up to, and get to know them a little if you are new to SSAGO! Don't forget you can contact the exec with any queries or ideas on exec@ssago.org
Exec
Joshua Smith - Chair
Hello SSAGOers, my names Joshua and I'm your current national Chair. I'm responsible for overseeing all of national SSAGO to ensure it's safe and running smoothly so you can have a great time.
Recently I've been working on our relationship with Scouting and Guiding, sorting out some of our rules and policies, and trying not to get too ill. One thing you'll notice about national SSAGO is we all wear pink which may or may not have been my doing. It's a great colour!
Do shout if you have any SSAGOy questions, I'm happy to help! I can be contacted on chair@ssago.org
Lauren Whittaker - Secretary
Attended Gilwell 24 and Gilwell Reunion to promote SSAGO!
Uploading resources to the website: new clubs factsheet, current/old club reports, rally feedback, reps voting result. All available via resources section https://www.ssago.org/resources
Worked with Jimmy to create a way of sharing ideas between SSAGO clubs - to be implemented in the future.
Updating the Incident and Accident reporting policy.
In the process of establishing an online Notifications system, with Vicky (Notifications Officer) and Oliver (Webmaster).
Talking to Larah regarding her role as Archivist - has lots of exciting ideas!
Acted as Chair for a short period whilst Josh recovered from illness.
Otherwise writing exec and reps minutes/agendas.
Started work as a Land Surveyor and joined a Brownie unit in Hemel Hempstead!
Edwin Burkinshaw - Treasurer
Hello SSAGO!
If you haven't noticed what I've been up to lately then you're probably not in the Facebook group having to put up with a million posts a day from me! I am of course referring to Lancaster Fantasy Rally, our next big international SSAGO event in Lancaster with people coming from Ireland and the Netherlands (Hence the international) which has more or less taken over my entire life at the moment! (Also if you haven't already then book now at https://rally.ssago.org/ )
There's a lot of work going on behind the scenes to make sure everything about Rally goes as smoothly as possible, and as such felt Rally deserved a mention before going into all the boring treasurer bits.
It's been a busy summer for all the exec, we've been up to all sorts of things and I'm sure you'll be able to read about all sorts of things in my fellow exec members blog posts, so I'll stick to the treasurer specific stuff.
Following last reps, we've been implementing the updated development fund policy and have already had a bid from HUGS that's been approved and sorted, and they now have a very nice flag! We're also looking into new ways to use the development fund to help benefit SSAGO as a whole, which are still in discussion at the moment but once we know what we want to do you'll be hearing a lot more about that!
In terms of SSAGO events we've been working with SW Freshers, Lancaster Rally (Yup, I'm working with myself, that guys annoying for sure!) and Nottingham Rally and trying to sort them out with deposits and bank accounts, no matter how much of an uphill battle that can be trying to sort out HSBC! Hopefully when I manage to get HSBC to work with us we'll be setting up several new accounts for different purposes, including a north and south account for freshers camps and a shop specific account as well as the Witan account.
Most of my jobs aren't the most exciting but I'm definitely here, behind the scenes frantically trying to stay on top of everything!
Edwin

Jimmy Austin - Membership
So by now most of you will know who I am but for those new to SSAGO, I'm Jimmy this year's Members Officer and I'm just starting my 3rd year of Mechanical Engineering at the University of Leicester. It's hard to believe I'm halfway through my year on the National Exec, I've been at my busiest in the last month with lots of action going on within clubs. With the help of some very enthusiastic SSAGO members we now have new clubs in; Worcester, Winchester and Falmouth, so welcome to all the new members at these clubs! Just because freshers is now over, this doesn't mean you have to wait until next year to create a club, do get in touch and I can then help support you. I've also now completed my training meaning I can process DBS's for anyone that requires one to help at SSAGO supports events. Over the coming months I will be working on rolling out the support role in SSAGO regions, as well as doing some work to update the factsheets area on the website. If you think there is a topic that you would find helpful or want more information on please let me know or come and have a chat at November Rally!

Melissa Roberts - Publicity
Hello fellow SSAGO-ers!
I'm Melissa, also often known as Mel, and I am responsible for everything to do with publicising SSAGO and our events! I'm part of Aberystwyth SSAGO and have just started my MA in International Politics here!
Hopefully, you've seen some of what I've done throughout freshers, with lots of facebook posts and tweets, and even more, posters being sent around the country to freshers fairs! Since the last blog post I have been working on 2 major things - SSAGO Support events and Freshers Publicity resources. We have had support teams at Fundays, Gilwell 24, Wellies and Wristbands and the Exec had a (very successful) stall at Gilwell Reunion. Every club had the option of a free publicity pack for the first time this year, they contained posters, business cards and stickers to be used for all things SSAGO! I've also been working with Oli (Webmaster and a Publicity Officer from times gone by) to get a final version of a publicity and branding policy sorted which has been in the making for about 5 years and is now ready to be voted on at reps!
Please feel free to call on me for any publicity related things, or anything else I can help with! You can get hold of me at publicity@ssago.org
I look forward to seeing everyone at Rally in November!
Assistants
Oliver Bills - Webmaster
Hey SSAGO!
My name's Oli and I'm the SSAGO Webmaster - I develop and look after all of SSAGO's technology - from the main website, the events system, the membership system (and so many other systems you'll probably encounter at some point!), emails and various bits of technical magic. At some point, you'll probably end up getting an automated email from me!
What have I been working on recently? All the stuff for Freshers, both for prospective SSAGO members and tools for committees, the Witan website, the Rovers 100 website, making the events system better (which you'll hopefully encounter when you book on to your first SSAGO event!), improving the Reps system for club reps, preparing things for the next SSAGO elections (even though they're still a long way away at the moment!) and using Summer to fix a lot of bugs and issues.
I'd love to hear your thoughts and suggestions on the SSAGO website and all of our SSAGO systems or any other ideas you might have - get in touch at webmaster@ssago.org, or find me in my pink hoodie at Rally and come and have a chat, or if you're a techy person and want to get more involved, make sure to join the Web Team at https://www.ssago.org/projects and get involved in the fun!
Oli

Larah Korrison - Archivist
Hallu!
I'm Larah and I'm SSAGO's Archivist! What's this fancy sound word I hear y'all say… archives are essentially old records, books, documents and sometimes artefacts, the original evidence for everything we know in History class. My role is about looking after and promoting our archive collections and sometimes helping clubs with theirs.
Lately I've been working on a few projects behind the scenes that will hopefully come to the surface. Last year we celebrated 50 years of SSAGO (although our roots go further than that), and I've been working with a few SSAGO members to finalise our interviews that we did at the birthday camp. I've also been working with Aber SSAGO over the summer to organise their records and they're now deposited into the University Library, Hugh Owen. I've also been digitising a large collection of Cambridge's SkyBlue termly magazine that has been running for decades now, the next stage will hopefully be getting them onto the website for everyone to enjoy. I've also utilised some of my contacts to do some Witan investigations. Witan was an international camp that was set up after the second world war to reunite Western Europe. Witan meaning, 'Meeting of the Wise', was run every 2 years and usually by a different country. Over this summer I've managed to piece together a timeline of most Witans and even have a physical and digital donation of a Pennant which were made at SSAGO rallies as a souvenir, today we have badges. Next Witan will be at KISC, witan.ssago.org
Look out for World Digital Preservation day on the 29th Nov and Explore Your Archive 17 - 25th Nov… some nice treats are coming your way! If you're interested to find out more, you can join our Facebook group and project at https://projects.ssago.org/. Feel free to post questions or share stories – maybe your parents were involved in SSAGO? You can also read about SSAGO's History on our website at https://www.ssago.org/pages/display/history
And as the cherry on the cake I'm always looking for people who fancy to get involved with the archive, there's plenty of fun things to do just ask if you're interested!
You can get hold of me at archivist@SSAGO.org or feel free to Facebook me (Soz not a Twitter person).
Joe Barnes - Quartermaster
Hey SSAGO,
I'm Joe, the National Quartermaster. I'm Studying Materials Engineering and the University of Liverpool, and I am responsible for running the online shop (www.shop.ssago.org) where you can buy SSAGO badges, neckers, hoodies etc., as well as selling these items at Rally.
Since last rally, it's been a fairly quiet period for the Shop; I've only had about 20 orders to process over the summer. I'm in the process updating the items on the shop so you'll soon be able to buy newly redesigned national hoodies, as well as reordering a few items and trying to sort out a few returns.
Of course, you're all wanting to know what the deal is with the 50th Anniversary badges, so I've been replying to lots of emails and Facebook posts about them, and Oli and I are working to be able to get these badges to you all in the least painful way possible, so keep an eye on your emails!
If you have any suggestions of new items to sell in our shop, or improvements that could be made, don't hesitate to get in touch with me: quartermaster@ssago.org
Please find me and introduce yourself at rally (as long as I've had coffee) – I'll be in a pink hoodie!
Joe -- SSAGO QM
If you want to contact any of the exec or assistants simply email their role @ssago.org (eg chair@ssago.org), or catch them at rally in their very bright pink clothing!